Love using Sezzle and want to tell the whole world about it? If you have connections with other merchants, whether similar to your business or not, you can earn cash for referring them to use Sezzle as their buy now pay later payment provider!
Benefits of referring a merchant to Sezzle.
If you are a current merchant with Sezzle, you have the opportunity to refer other merchants to use our buy now pay later service. There are a few incentives to refer someone to Sezzle.
Building a community.

When you refer a merchant to Sezzle, you are not only helping us to grow and gain more merchant partners, you are also helping us to build a community of merchants who are after the same goals you are. Whether you are a small business or an enterprise-level retailer, your opinion matters to Sezzle, and we want you to feel like you belong to a diverse community of merchants you can learn from and grow with.

Cash Bonus.

When a merchant you refer signs up with Sezzle and begins to take orders, you will receive 10% of the fees they've paid us throughout their first year on top of the payouts you are already receiving from your own business! That's right! Cold, hard cash just for letting your connection know how great Sezzle is.
How to refer someone?
1. Finding the referral code. Log into your merchant dashboard and navigate to the Settings tab on the left-hand side of the screen. From here you will see a referral code.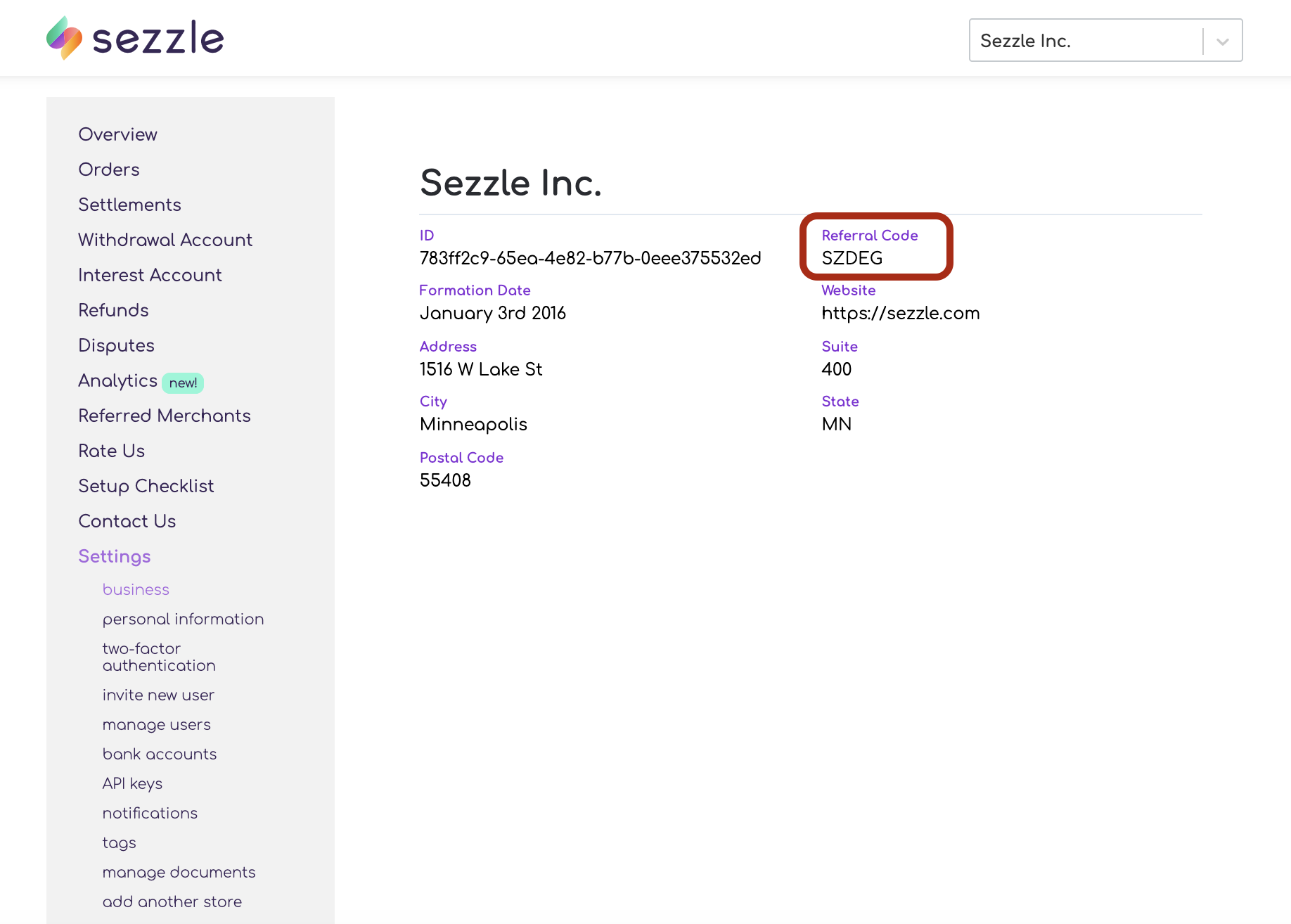 2. Merchant fills out the new merchant application. Give this referral code to the individual that will be filling out the application to become a new Sezzle merchant. They will then enter this code when they apply to become a Sezzle merchant.
3. Watch and wait as the referral bonus rolls in! If the merchant is approved to begin using Sezzle, they will appear as a referred merchant in your dashboard under the "Referred Merchants" tab. Throughout their first with Sezzle, you will receive quarterly referral deposits into your withdrawal account.