We sure do! Sezzle now offers an invoicing solution best suited for small- to medium-sized merchants to manage within their Sezzle dashboard for in-store or phone purchases.
Please reach out to accounts@sezzle.com to get started or see below to learn more.
How does it work?
A shopper walks up to the checkout with product(s) or calls to place an order with the merchant through Sezzle.

The merchant fills out an invoice via the Sezzle Merchant Dashboard.

The merchant sends the invoice via text, email, or QR code.

The shopper clicks the checkout link where they are then prompted to signup or login to their Sezzle account.

The shopper will confirm their invoice purchase via the checkout link.

The merchant will receive a status change on the invoice page in the Merchant Dashboard from 'unpaid' to 'paid' once the shopper has completed their order.

The shopper then can leave the store with the product(s) (or await arrival for phone orders).
You can also check out a video for how to send an invoice below!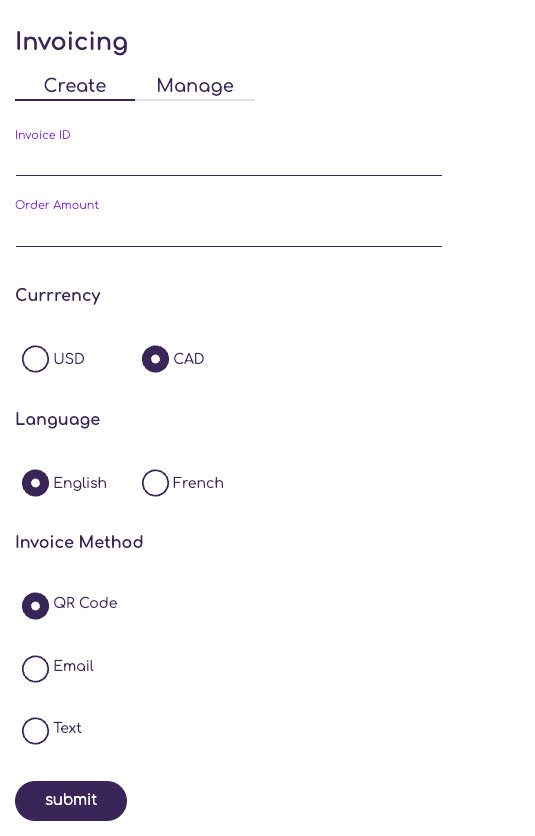 FAQs
Which merchants are eligible?
This feature is best suitable for small- to medium-sized merchants. You will need to be an approved Sezzle merchant with a linked bank account and either CAD or USD currency set up.
How do I get started and how long does it take?
Reach out to our merchant success team at accounts@sezzle.com and they will turn this feature on for you. From that point, you should be granted access and have the ability to begin invoicing.
Is there an invoice minimum and/or maximum?
Yes, the maximum for all invoices is $500 including tax and shipping (either USD or CAD as based the merchant's currency).
There is a USD $20 minimum for any Sezzle order unless set higher by the merchant. (Canadian minimum will be in CAD converted from USD.)
Are there any extra fees associated with this feature?
There are no additional fees associated with the invoicing feature. Regular merchant fees still apply. We will deduct the normal fee we would for any Sezzle purchase from each invoice.
Does the approval process differ with invoicing vs. regular Sezzle checkout for the shopper?
For the shopper, the approval process doesn't differ with invoicing vs. regular Sezzle checkout.
Will invoiced orders show up in my dashboard?
Invoice orders will appear in the Orders tab as well as the Invoicing tab → Manage.
Is the return or dispute process any different for invoice orders?
No, the return and disputes processes are not any different with invoice orders.
Can I send an itemized invoice through Sezzle?
The invoices sent via Sezzle only include the total amount (including taxes) that is being invoiced.
Shopify merchants: to view an itemized list you can use your POS. Just process your items and use Sezzle in the Payment method. Be sure to run the transaction in your Sezzle dashboard before the Shopify POS to ensure the payment is processed.
I sent an invoice to a shopper, but it was declined. What can I do?
If a shopper's order is declined, the merchant can either try to send the invoice again for a lower amount or let the shopper know they will not be able to purchase the item via Sezzle.